Community Arts
New and Recent Projects
Kira teaches classes in photography, painting on photographs, silk painting, community, and collaboration in the arts.  She is currently working on a book titled Art and Change: Creating Legislative, Community and Personal Growth.  This book teaches nonprofits and artists how to produce impact driven art while also documenting Kira's collaborative to educate legislators, build community resilience, and heal personal tragedy.
At the workshop, students will create beautiful rectangle scarfs or square wall hangings, plus a small square art experiment. No experience in art needed. Samples, templates and materials provided. They will learn how to paint on Habotai silk using a resist for holding shapes and lines, with pigment dyes, permanent inks and other techniques to thrill their imaginative spirit.
• Art is the Next Peace: Connecting Communities
For the past two years, they have led the South County art project titled Art is the Next Peace, Connecting Communities. Corser has partnered with First Night Monterey to bring young people in Monterey County together to paint stunning works of art while they experience an atmosphere free from violence. In 2011, Art is the Next Peace brought 57 kids together at four different workshops to learn the craft of painting.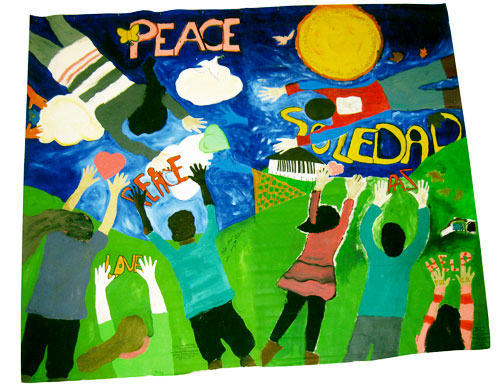 ---
• FIRST NIGHT MONTEREY ARTWORKS!
sponsored Artistic Director Kira Carrillo Corser in Marina workshops helping students paint 20 silk paintings, each 7-feet long. They exhibited at the Monterey Conference Center on New Year's Eve as part of the "ART is the NEXT PEACE: CONNECTING COMMUNITIES Project," promoting nonviolent resolutions to gangs, bullying, and domestic violence. This project also made possible by a grant from the Arts Council for Monterey County. Find out more on FACEBOOK!
• SALINAS CHILDREN – THINKING THROUGH ART
was a featured exhibit at the National Steinbeck Center in Salinas, March 7 – 31, 2008. Presented by the Arts Council for Monterey County. View VIDEO »» Here.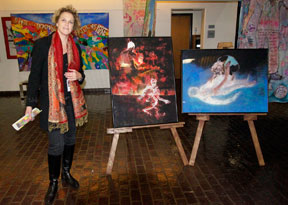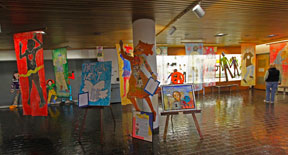 Vitae Summary:
Photographer/writer/videographer with 30 years experience, including 10 years in Public Broadcasting. Awards include: National Endowment for the Arts, California Council for the Arts, The James Irvine Foundation, and the CA Wellness Foundation.
Kira has four collaborative books and exhibitions published with writer Frances Payne Adler.
She has over 10 years experience creating and coordinating community arts projects, including showing in or working collaboratively with libraries.
Library Community Projects & Showings Include:
Photographing Our Terrain/Fotofafiar Nuestro Terreno – Free family workshop sponsored by the Watsonville Public Library and the Museum of Art & History in Santa Cruz, CA. Polaroid photos of people and places were discussed, taken by participants, and enlarged on matte cardstock and then hand-painted. June 25, 2005
Guiding with Courage: Personal Heroes – A writing contest, traveling art exhibition, book, video, and event, that was designed and organized in collaboration with 18 Monterey County Libraries and schools. 1998 – 2000 Project designed to promote community interaction and leader support.
Monterey City Library Sesquicentennial Celebration – A community art project with children and adults participating on the history of Monterey and the history of the Library. Oct. 2000 The final outcome of the event was a community quilt made of painted silk, a permanent installation in the Monterey Library.
Visual Voices: Threat of the Dam – A project designed to give a voice to the community. The Carmel Valley Library exhibited 90 children's silk paintings, representing 90,000 trees that would be lost if a new dam on the Carmel River were built. The kids wrote and painted about their feelings about the Carmel River, the endangered fish and habitats of animals. A traveling portfolio of photographs, statistics and poems representing the community was also exhibited at the library.
Theatre of the Imagination – Santa Catalina School Library Gallery:  January – April 2002. This was an interactive exhibition, with painted photographs designed to encourage storytelling, puppets and a giant book puppet stage, and corresponding hand-made books for viewers to contribute creative writing. Teens and children were able to share serious life experiences and use art as a catalyst for expression.
Children's Cultural Puppet Theatre – Based on the book titled "Why Mosquitoes Buzz," hand-made silk painted puppets act out this West African folktale. Performed and video produced. Showing in Seaside, California at Manzanita school's CPY program, co-sponsored by CSUMB Service Learning Institute and the America Reads Program. Second performance at the Carmel Barnyard for Independent Book Sellers Association 2002
"A Matriot's Dream: Health Care for All" – Presentation at CSUMB library when her collaborative nationally traveling exhibition was exhibited.
June 25, 2005
---
Past Projects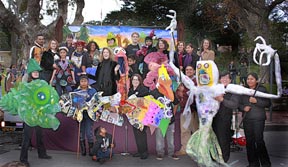 Kira wrote the original script, editing by Federico Moramarco. She directed and made large puppets, Mami Wata, the SeaSnake, Pollution Monster (with help from kids and adult volunteers.) She worked with artists Nina Parris (lifesize foam puppets) actors, writers and painters: Kylie Batlin, Veronica Christie, Juan Carlos Gonzalez, Marcela Diaz, Deanne Salleh, Ellen Martin (Director of FNM) Angelina, Daniela and David Cervantes, and the Greenfield Community Art Class.