University and Arts Education
Kira Carrillo Corser
Instructor, Photographer, Fine and New Media Artist
New and Past Projects
Special Interest: University Curriculum, Museums, President Clinton, Washington DC, CSUMB Set Design, and Other Materials.
First Night Monterey Artworks! sponsored Artistic Director Kira Carrillo Corser in Marina workshops helping students paint 20 silk paintings, each 7-feet long. They exhibited at the Monterey Conference Center on New Year's Eve as part of the "ART is the NEXT PEACE: CONNECTING COMMUNITIES Project," promoting nonviolent resolutions to gangs, bullying, and domestic violence. This project also made possible by a grant from the Arts Council for Monterey County. Find out more on FACEBOOK!
Downloads

University Connections and Teaching Summary

Full Curriculum Vitae

PAS Catalog — As Director of Arts and Education at the
Arts Council for Monterey County
, Kira produced a Professional Artists in the Schools Catalog, contracted with schools, teachers, community
nonprofits and artists.
Recent Projects

Art Direction and Videography "From Where I Sit" Video Series – California State University Chancelor's office for statewide distribution, Professional Development for Accessible Technology.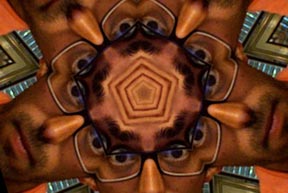 Kira designed the Human Cultural Kaledidoscope Installation for First Night Monterey 2010, with video, Kaledidoscope software, Mac and Projection on walls, including mosaic mirrored walls, lights, community painted cultural icons, composed soundscape.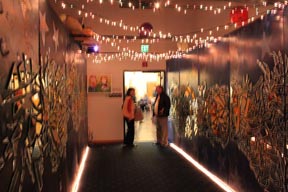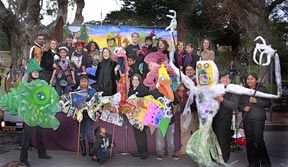 Kira wrote the original script, editing by Federico Moramarco. She directed and made large puppets, Mami Wata, the SeaSnake, Pollution Monster (with help from kids and adult volunteers.) She worked with artists Nina Parris (lifesize foam puppets) actors, writers and painters: Kylie Batlin, Veronica Christie, Juan Carlos Gonzalez, Marcela Diaz, Deanne Salleh, Ellen Martin (Director of FNM) Angelina, Daniela and David Cervantes, and the Greenfield Community Art Class.
…………………………………… VIEW VIDEO …………………………………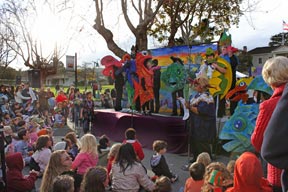 Kira Carrillo Corser offers theoretical and practical courses in fine arts and new media arts. Her work, and student's work, is often used to give a voice to a social issue, reflect on a personal experience, or support a community effort. She has taught students to use photography, writing, painting, acting, puppetry, singing, poetry, websites and other social messaging tools.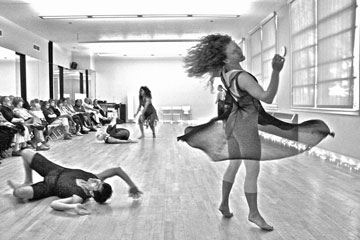 Kira has over 20 years experience in collaborating with nonprofit community partnerships. Her classes not only focus on content, technique, and organizational tools, but they also give students ideas for traditional galleries and non-traditional sites, financial supports, and research/credibility partnerships, marketing and advertising.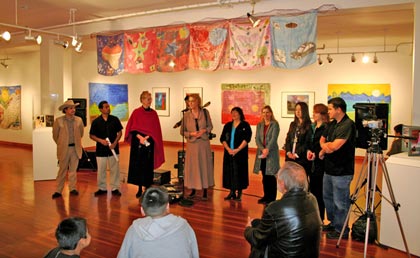 Her current exhibitions mix new media with traditional art forms. An example of recent work is the "Human Cultural Kaleidoscope" installed at the Monterey Conference Center for First Night Monterey, an art festival for thousands attending on New Years Eve.
Kira invited artists and community art classes to help in the making of the mosaic mirrored walls, and cultural icon paintings. She made 8-foot silk paintings, composed a sound-scape with musical instruments from different cultures, designed the mirrored wall installation with lights, paintings, installed a video camcorder that fed into a Mac program. This incorporated the faces of participants into a changing Kaleidoscope image projected on a 12-foot wall. This project and her puppet play (teaching about plastic pollution in the oceans) titled Mami Wata Save the Sea were supported by a grant from the California Arts Council.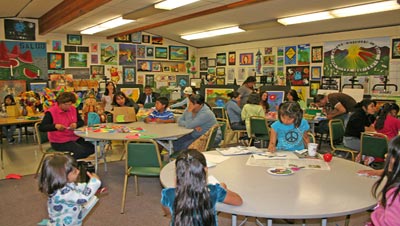 Kira specializes in large-scale collaborative community projects such as the recent Mi Vida: Mi Pueblo – My Life: My Town. The exhibition includes 18 (30" x 40') frames with stories, poems in English and Spanish, photographs, and paintings reflecting on life in the rural towns of the Salinas Valley.
The exhibition included: website pages, handmade books, videos, 8foot painted murals, posters, contests and prizes. The work was shown in the National Steinbeck Center for the Binacional Health Week Conference, at the Sunset Center Marjorie Evans Gallery in Carmel, the Monterey County Free Libraries, the Arts Council for Monterey County's Champions Awards for Artistic Excellence, the Mission Cultural Center for Latino Arts in San Francisco, featured on the James Irvine Foundation and the Community Foundation for Monterey County's Websites, and at the Monterey County Office of Education.
FIND OUT MORE: University Curriculum, Museums, President Clinton, Washington DC, CSUMB Set Design, and Other Materials.